by Kara G. Morrison – Apr. 20, 2012
The Republic | azcentral.com
Edward Fedoruk was green before the eco friendly homes term existed.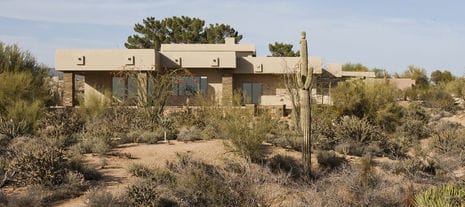 "A high-school teacher at Saguaro High School got me going on this stuff," says Fedoruk, who grew up near architect Paolo Soleri's Cosanti and remembers trying his hand at organic gardening on the Scottsdale school's grounds in the early 1970s.
Fedoruk, a carpenter, contractor and custom-home builder, co-owns Southface Solar Electric in Carefree, which installs residential and commercial photovoltaic solar systems.
For the past two years, he has been working on the house he hopes to one day retire in, a residence that reflects his three decades of experience creating eco friendly homes.
 Photos: Take a tour
The 3,000-square-foot house in Carefree's the Boulders development nearly is a net-zero energy house.
When he and his dentist wife, Elysa Daniels, move in this summer, Fedoruk expects to pay no more than the $10 monthly service charge from APS for his energy bill.
"I took it to the max, because it was time to take it to the max," Fedoruk says.
In time for Earth Day, he shares some of the energy-saving features he's incorporating into his home. The first thing one notices is just how subtle it is being eco-friendly.
Fedoruk's residence looks like any other luxury home, with a massive granite-topped kitchen island, chef's quality stainless-steel appliances and views that frame Black Mountain and desert vistas.
There are also marble-tile (and low-flow) showers; high, beamed ceilings; skylights and clerestory windows.
"It's got everything anyone could want and uses almost no power," he says.
Fedoruk's eco friendly journey started shortly after he purchased the property. He found a mountain of problems in the original 1970s home, including termites in the wooden ductwork under the collapsing slab.
He recycled everything he could, donating cabinets, fixtures and appliances to the non-profit Stardust Building Supplies and grinding concrete to use as fill material in the remodel.
The home's stucco walls now hide 2 inches of high-density foam insulation on the exterior. A 14-foot overhang/covered patio on the home's south side protects the structure from the summer heat.
Fedoruk says he builds in each of his eco friendly homes a stem wall, filled with 3 inches of foam, which extends 2.5 feet into the ground around the footings.
"It's easy to do at new construction," he says, noting it stops the summer heat and the winter cold from creeping into the slab and affecting floor temperatures. "It's $1,000 to do this."
And $200 worth of caulking in the framing stage "keeps the scorpions out and the dirty Valley air out and (air-conditioning) in," he says.
Other green features of Fedoruk's home include:
Water conservation. A gray-water system directs drainage from the kitchen sink, showers, washing machine and water softener, and condensate from the air-conditioner, to trees and desert-adapted landscaping.
Lots of shade. Fedoruk has strategically planted at least 15 trees — most of them desert natives, such as paloverde, ironwood and mesquite — for shade.
Woodburning stove. This living-room stove has a catalytic converter and carburetor. It burns so cleanly that it's Environmental Protection Agency-certified for use on no-burn days. He also installed an electric induction cooktop rather than a gas range.
No pool. The Boulders' community pool is literally at the end of the couple's backyard, which means all the convenience without the maintenance or expense. However, Fedoruk did build his own "therapy spa" on his back patio with solar tubing to heat the water and 6 inches of foam insulation to keep it warm.
Vegetable garden. Fedoruk and his wife are cooks, but he's the one with a green thumb. He'll grow asparagus, strawberries, tomatoes, arugula, herbs and more in raised beds fertilized with compost.
Off-peak energy. The home's efficient building envelope means the house stays so cool that, even in summer, Fedoruk doesn't have to turn on the AC during the day. He'll often run it at 9 p.m., past peak energy-usage hours.
Hot water. For instant hot water, Fedoruk installed a water-recirculation pump, saving the gallons that otherwise would run down the drain while waiting for warm water.
"Every house should have that. It's a $200 option," Fedoruk says.
The home also boasts a solar water-heating system with a tankless water-heater backup. Strategically placed hot-water pipes heat the floors.
Photovoltaic solar system. Fedoruk owns a solar photovoltaic installation company for a reason, but he insists it's the last piece of the green puzzle and should follow making the home's building envelope as efficient as possible.
He installed a 6-kilowatt Sanyo solar system, which is about half the size needed for a 3,000-square-foot house that isn't efficiently built.
"It's a smaller panel that makes a lot of power, and they handle the summer heat really well," he says.