Solar Installation in Carefree, AZ
SouthFace Solar & Electric is a full-service solar company in Arizona serving the solar and energy needs of greater Phoenix and Maricopa County.
Carefree Solar
Carefree Renewable Energy for Your Carefree Home!
It's rare to live in a town with a name that describes what it's like to live within the city limits, but here in the shadow of Black Mountain, we are lucky to get to enjoy our own little quiet corner of Maricopa County. And if you are a homeowner looking to put your cares about rising energy costs on the backburner with solar installation for your home or business, you've found yourself in the right place! 
SouthFace Solar & Electric is the solar installation expert homeowners count on in Carefree, and throughout Maricopa County.
Making the Most of Arizona's Sunshine
The sun here in the desert may bring the heat, but it can also bring the power. With close to 300 days of ample sunshine throughout the year, Arizona is one of the best places in the country for utilizing the renewable energy of solar panels. When you combine the bountiful sunshine with the multiple solar incentives available that can further reduce the cost of solar panel installation, and the fact that solar panel prices have dropped significantly in the past half-a-decade, it is no surprise that you may have seen quite a few new solar panels on the roofs in your neighborhood. 
At SouthFace Solar & Electric, we have put in the time (over 35 years of combined solar installation experience) to know what it takes to design and install solar panels that will provide the maximum amount of energy for as long as possible.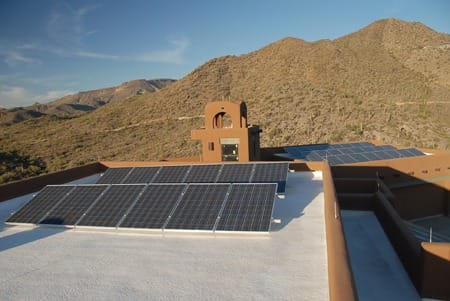 See What Other Carefree, Az Homeowners Are Doing With Solar
How do we know you're going to love your new solar PV (photovoltaic) system? Because we have helped your Carefree neighbors benefit from their solar installation projects. Take a look at some of the projects we have worked on in your area, specifically here in Carefree.
We take the future of your home's energy seriously because we know that no Arizonan wants to make a large investment in their home if it isn't done correctly. With our attention to detail, unmatched customer service, technical expertise, and craftsmanship, your newly designed solar PV system will last for decades to come—we guarantee it! Our systems come with a 25-year warranty, so you can depend on the following benefits for more than two decades:
Reduced energy costs

A smaller carbon footprint

Increased property resale value

And more!
Want to Go Off-Grid? We Do That Too!
As solar panel efficiency and technology have improved, so has solar battery storage. In a traditional solar PV system, your home is still connected to the grid, and you will in fact lose power if the city grid goes down in a blackout or brownout, or be facing peak demand charges. With a battery storage system, SouthFace Solar & Electric can design your system of solar panels and batteries (and generators) to operate independent of the grid, meaning you will no longer have to worry about demand response charges, blackouts, or an electricity bill.
Transform your Carefree, AZ home's energy usage with solar panel installation. Schedule a free solar quote by calling

480-636-1800

or

get in touch here

.