What You Need to Know If You're Buying or Selling a House with Solar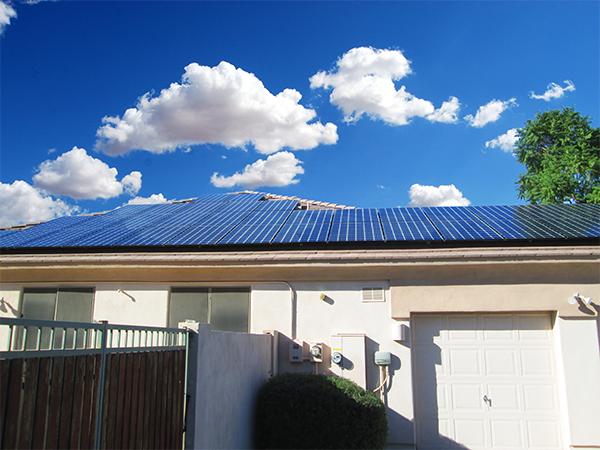 More and more Arizona homeowners are taking advantage of the benefits of solar energy, which means more and more houses throughout the state are equipped with rooftop solar panels. This is a good thing for home buyers and sellers alike, but it can also raise some questions if you're thinking about buying or selling a home with solar.
If you're considering selling your house after a home solar panel installation or buying a home with solar panels already installed, keep reading! In this guide, we'll answer common questions about buying and selling a house with solar panels so you can be prepared to buy or sell with confidence. 
Buying a House with Solar Panels Already Installed 
Buying a house with solar panels is a good idea, especially if you were considering installing them anyway. You won't have to deal with the installation and you'll be able to start benefiting from solar as soon as you move in. But there are a few questions you should ask the homeowners before you decide to make an offer: 
Is the solar system leased or owned? 
Not all solar systems are owned by the homeowner. Sometimes they're leased from a third party that owns the panels and charges the homeowner a monthly fee to use them. You'll want to find out who owns the system and review the contract. In the case of a lease, you need to make sure the lease is transferable and find out how much the monthly payments will be. 
When were the solar panels installed? 
Most solar panels have a lifespan of 25+ years and carry a 25-year warranty. When thinking about buying a house with solar, find out when the system was installed so you know how much longer it will last before it needs to be replaced and updated. A solar system that was installed a few years ago has more value than one that was installed 20 years ago. 
How much electricity is the solar system producing? 
The main benefit of an Arizona solar system is the amount of money you can save on your electric bills every month by producing your own electricity. But not every solar system produces the same amount of electricity. To get an idea of how much you can expect to save, ask to see some recent electric bills. 
Selling a House with Solar Panels 
Are you an Arizona homeowner with solar panels who's looking to sell? We've got some good news for you! Solar panels increase home value in Arizona and can even help your house sell faster. When selling a house with solar panels, make sure you ask yourself these questions: 
Is your solar loan paid off? 
If you used a home equity loan to finance your solar panels, you'll need to pay off the loan balance before you sell your house. If it's an unsecured loan (or one that's not tied to your property), then you can sell your house prior to paying off the loan, but you will still need to pay off the remaining balance. 
Do your roof or solar panels need maintenance? 
Having your roof and solar panels inspected prior to selling is a good idea that will help prospective buyers feel more comfortable buying a house that already has solar panels installed. Buyers will likely have questions about the roof and solar system's condition before making an offer, and having up-to-date information to share with them will be incredibly helpful. 
Are your realtor and assessor familiar with solar?
In order to get the most value out of a home you are selling with a solar system, it is important to have a realtor with some experience with solar. An experienced realtor will be able to convey the value of the solar system to buyers. Ask your assessor and realtor if they are familiar with the Green Energy Addendum and ask if they have ever sold a home with solar before.
SouthFace Solar & Electric Is Your Local Solar Expert 
SouthFace Solar & Electric is the solar company Arizona homeowners trust. If you're thinking about buying a house with solar panels and want to talk to an expert, or if you want to install solar panels on your house but are worried about what will happen when you sell, give us a call. 
We can answer all of your questions about how home value increases with solar and what to look out for when buying or selling a house with solar panels. Thinking about adding more panels or upgrading to backup power after buying a home with solar – we can answer those questions too! 
We also offer solar panel maintenance and can help you get your solar system ready to sell or inspect the solar system on a house you're thinking about buying. 
Have questions about buying or selling a house with solar? Call

480-405-6105 or contact us

to talk to an expert.